10 Things You May Not Know About Cinderella Castle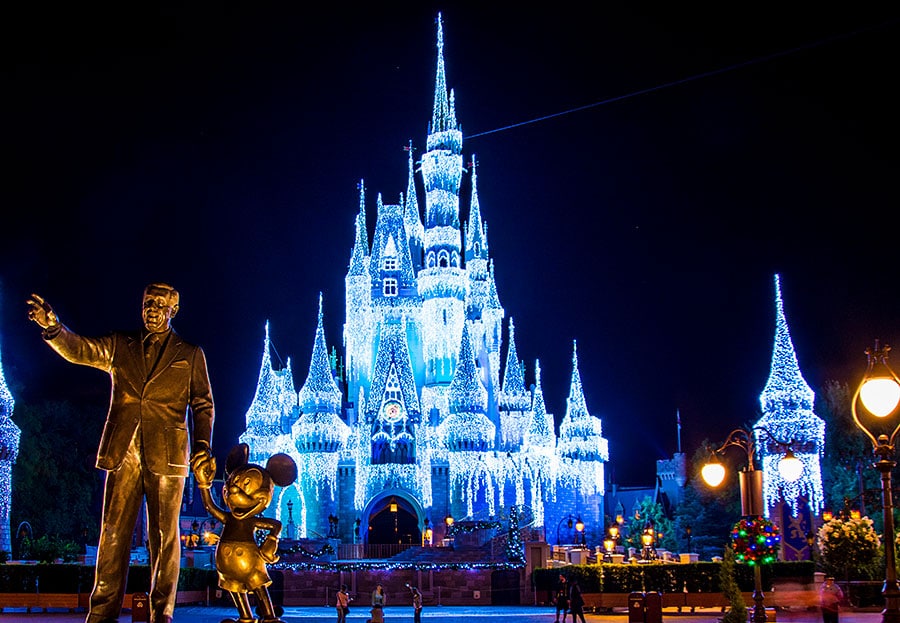 Our family has a tradition when visiting the Magic Kingdom. We always take the ferry boats from the Transportation and Ticket Center. Why? There's something wonderful about the way Cinderella Castle comes into view as you glide across the surface of the Seven Seas Lagoon. It's a grand reveal that never fails to put a little lump in my throat.
Despite being such an iconic structure at the parks, we're willing to bet there are a few things you may not know about it. So, here are ten facts you may not know about Cinderella Castle:
1. It's Really Tall!
Okay. You probably knew that the castle was pretty tall. After all, it dominates the Magic Kingdom's skyline. However, you may not have known just how tall it stands. From the bottom (down under the waters of the moat) to the top, it is 189 feet tall. That's a full 100 feet taller than Sleeping Beauty Castle in Disneyland. Not that it's a competition…but if it were, Cinderella obviously wins. However, as far as "Tallest Attraction in Walt Disney World" honors go, Cinderella Castle only comes in 4th place, just barely behind nearby Big Thunder Mountain Railroad, the Tower of Terror, and the reigning champ, Expedition Everest.
Oh, one more note. If the castle had been a little taller it would have required a flashing red beacon for passing aircraft. (For similar reasons, this is why the Tower of Terror isn't quiiiiiiiite 200 feet tall!)
2. But…It's Not As Tall as It Looks
This might seem contradictory after our last item, but it's true. The castle utilizes forced perspective in its design. The upper portions of the castle (such as the spires) gradually get smaller, fooling the eye into thinking it stands taller than it actually does. This same trick of perspective is used on Main Street U.S.A., where the second story windows are smaller than they normally would be. However, the majesty of Cinderella Castle is no trick, that's real Disney magic!
3. There's A Lot of Water in That Moat
The castle moat is six feet deep and contains around 3.37 million gallons of water. That may sound like a lot, but that amount of water would only fill up a bit more than half of the aquarium at the Seas With Nemo & Friends!
4. Mosaic Madness!
Step inside the archway of Cinderella's Castle and you'll find five ornate mosaic murals telling the story of Cinderella. The mosaics were created using over 500 colors on over 300,000 pieces of Italian glass. The murals stand as tall as fifteen feet high, and some of their tiles are fused with sterling silver and 14 karat gold. There are also a couple "Easter Eggs" hidden in the murals. The footman was designed to resemble Imagineer Herb Ryman and the Archduke looks suspiciously like artist and Walt Disney creative director John Hench. Also, take note of the tiles in the cheeks of Cinderella's step-sisters. You'll see that they're tinged red and green, giving Anastasia and Drizella a little hint of jealousy and envy!
5. You Can Eat Inside the Castle
Guests who want to experience the Royal Treatment can dine at Cinderella's Royal Table. The restaurant is located inside the castle and truly looks as though you are eating inside a royal dining hall. To make things even more magical, your meal includes meet and greets with Disney princesses including Cinderella, Ariel, Snow White, Aurora, and Jasmine. The princesses you meet depend on the meal you attend.
If you happen to dine in the castle, take a look at the coats of arms on display. There are over 40, and each represents a person who played a substantial role in Disney history. Those represented include Marty Sklar, Diane Disney Miller, and Card Walker. Incidentally, you can see the Disney coat of arms over the Castle entrance.
6. It's Possible to Sleep There
A very select number of Guests are able to sleep in a suite located four stories up inside Cinderella Castle. The suite can sleep up to six people. However, sleeping in the castle is no easy feat. It's typically reserved for VIPs visiting the park or for contest winners.
7. Your Little Ones Can Be Transformed in the Castle
Guests aged 3-12 can be transformed into a brave knight or a princess inside the castle's Bibbidi Bobbidi Boutique. A variety of packages are available, which include things like hairstyle, make-up, costume, nail polish, and more.
8. Dream Lights
If you were to ask me to name the most breathtaking experience in all of Walt Disney World, I'd have to say that it is Cinderella Castle during the holiday season. That is when the castle gets covered with "dream lights." Over 350,000 LED lights decorate the castle and make it look as though it has been covered with glittering icicles.
9. Tinker Bell Takes Flight
During fireworks shows, Tinker Bell takes flight from the top of Cinderella Castle. After climbing stairs and a ladder, she reaches an area at the top large enough for Tinker Bell and one tech worker. At the right moment, she' glides down on a zipline and speeds across the night sky at anywhere between 20 and 35 miles per hour. Her night flight takes her all the way to Tomorrowland Terrace. Wait, wait…forget all that!!! We all know that's Tink herself spreading pixie dust as she flies through the air. We'll just say that sometimes she has other fairy duties that take her away, and the zipline method is used by her "assistants" when Tinker Bell is away. (Whew!!! Magic saved…)
10. It Was Inspired by a Real Castle
Cinderella Castle took inspiration from a number of real life castles, the most notable being Neuschwanstein Castle in Germany. You can see the real life castle over in Epcot at Soarin' Around the World. Other sources of inspiration include the Château d'Ussé and Château de Chenonceau in France.
Enjoy the magic of Disney all year 'round with Celebrations Digital Magazine!
1 year/$19.99!