Enjoy the Magic of Disney All Year 'Round With Celebrations Digital Magazine!
Open the door to a whole new world of magic as you explore the secrets, stories, and history of Walt Disney World.
Only $19.99 for 4 digital editions every year!
Please note that new subscriptions will be starting with our Spring 2024 edition, coming out in early March.
This subscription automatically renews every year.
Subscribe today and enjoy these FREE digital gifts!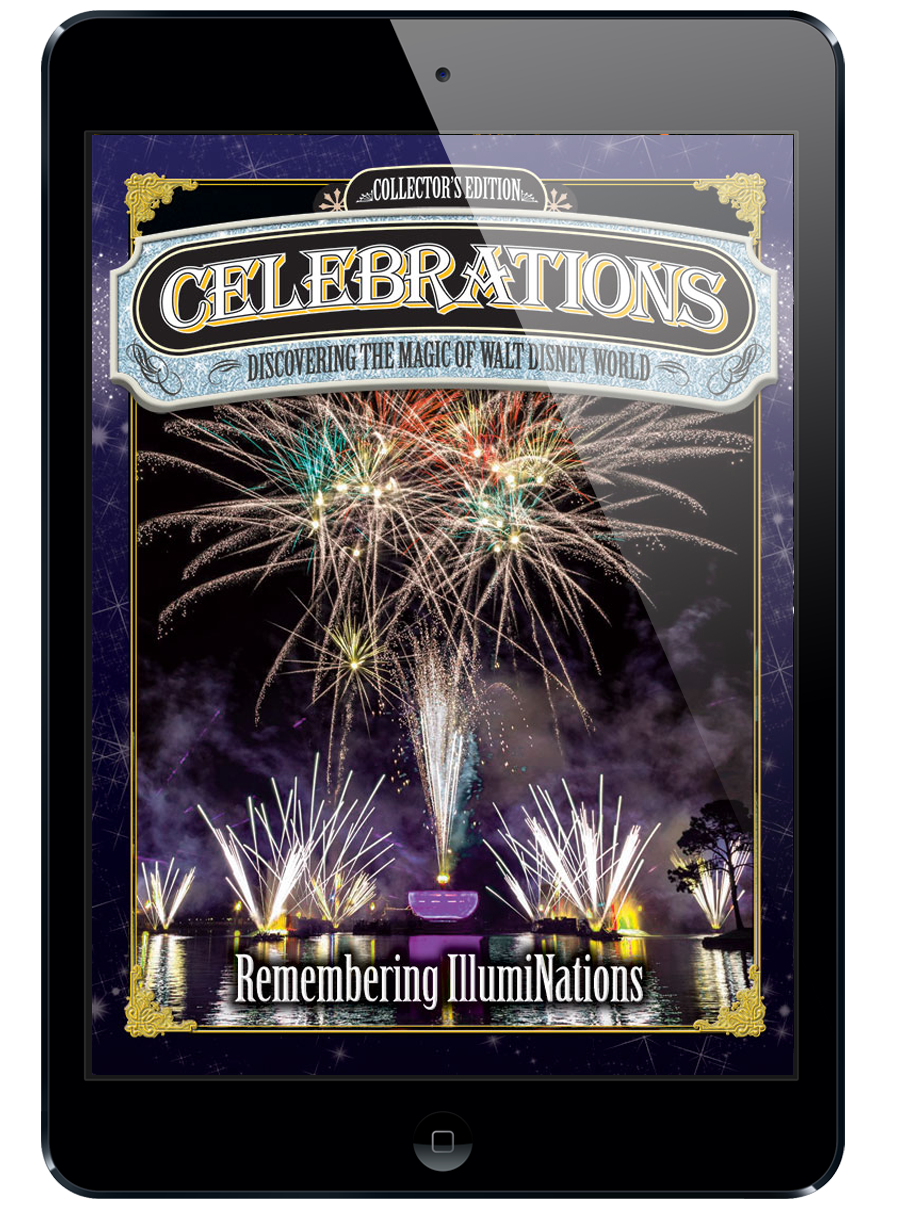 FREE!
"Remembering IllumiNations"
 Our Keepsake Digital Photobook Bringing You the Magic of This Beloved Epcot Spectacular!
 "Remembering IllumiNations" tells the story of this beloved show through 84 digital pages of glorious photos that you'll treasure forever!
FREE!
The Deluxe Digital Versions From Our Last Three Years, including Our 50th Anniversary Edition!
Celebrate 50 years of Walt Disney World magic with our gala commemorative Issues!!
You'll also receive the digital edition of our very FIRST Christmas issue!
FREE!
The Celebrations Digital Edition!
Enjoy the magic of Disney anywhere you go! You can read the digital version of Celebrations on your phone, tablet, or laptop!
Here's what you'll find in every edition of Celebrations!
128 pages overflowing with magical articles and beautiful photographs…
Grow your very own library of Disney magic with Celebrations: the keepsake publication that you'll treasure for a lifetime.
Feature Articles and Breathtaking Pictorials
Immerse yourself in the magic of Disney in a whole new way!
In-depth Tours of Classic Disney Attractions
Discover all of the secrets, back stories, and fun facts behind all of your favorites!
Exclusive Interviews with Disney Legends
Find out how the Imagineers, animators, composers, and actors bring the world of Disney to life!
Relive the Magic of Beloved Disney Films
From timeless classics to the newest releases, journey into the on-screen worlds of your favorite movies!
Upcoming Events, Disney News, and Travel Tips
Catch up with all of the latest happenings at Walt Disney World to help you plan a magical vacation!
Fun & Games for the Whole Family
Mystery photos, quizzes, Top Ten lists, and the Celebrations Kids Korner!
You Can Also Relive the Magic of Disney With the Print Version of Celebrations!
Celebrations is the one-of-a-kind collectible keepsake that lets you immerse yourself in the magic of Disney all throughout the year!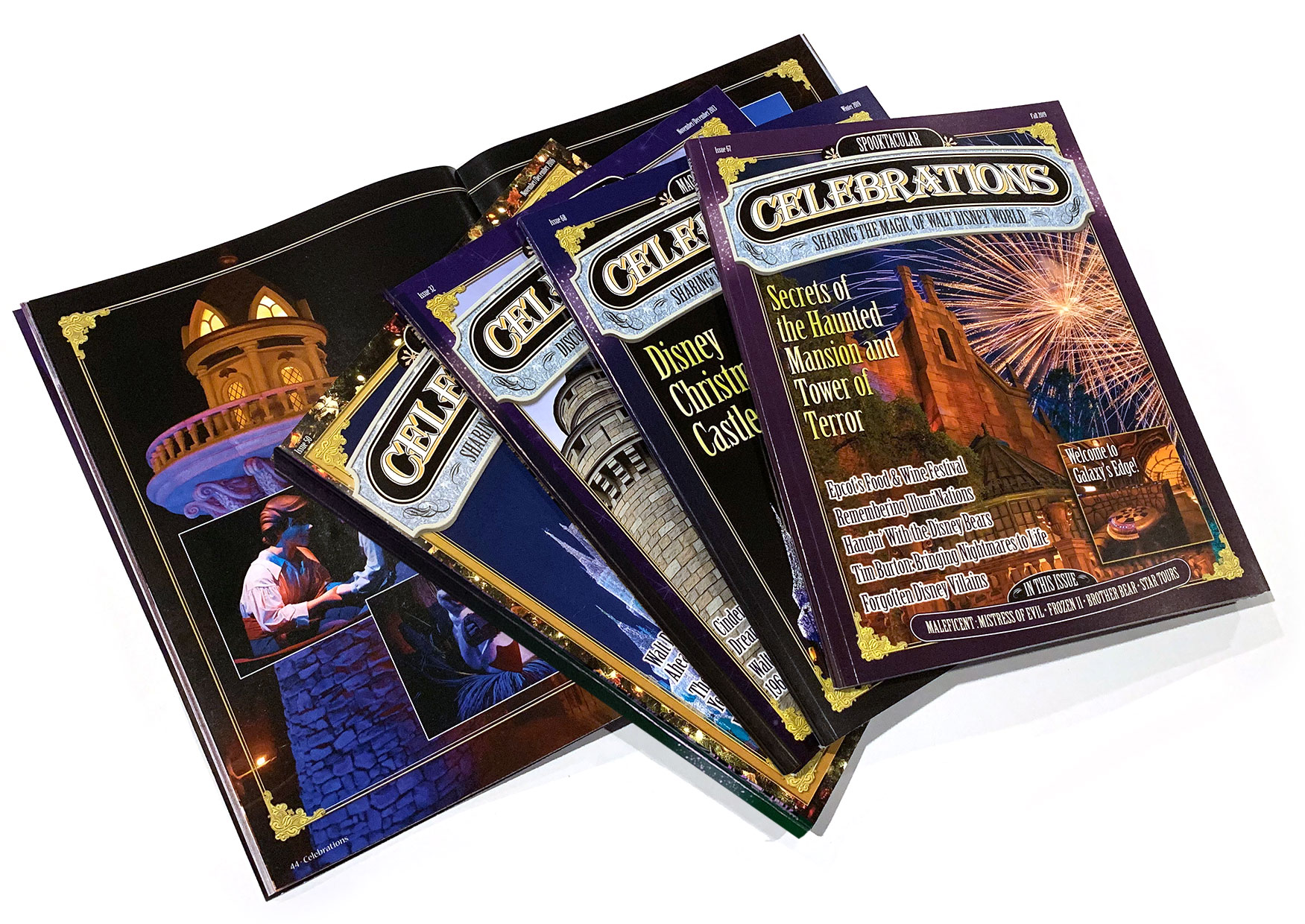 Build your own library of Celebrations Disney Magic that you can revisit again and again and again!
Transport yourself to the Most Magical Place on Earth through beautiful pictorials and imaginative, in-depth articles!
Share the unforgettable joy of Disney with your entire family…everyone from the young to the young-at-heart!
Celebrations brings you so much magic that we couldn't just call it a magazine.
Think of it as your keepsake "Souvezine" of Disney magic!
What is a "souvezine"?
It's more than a magazine – more than a souvenir.
Magazines are "for the moment," but a "souvezine" is forever!
Here's what people are saying!
"We love Celebrations, it is a wonderful way to keep the magic of Walt Disney World in our everyday life between trips. My kids enjoy it just as much I do!"
"A fantastic publication for Disney fans of any level – even long-time enthusiasts like me! The magazine is simply beautiful and the articles are always insightful and fun to read."
"Celebrations is not something you just read and then throw away. It's a collectible Disney keepsake that I promise you'll treasure and revisit forever."
Relive the magic of Disney now and forever with Celebrations, the collectible keepsake publication that you'll treasure for years and years!
Frequently Asked Questions (FAQs)
How often is Celebrations published?
We publish four issues a year, and each issue is 128 pages.
When can I expect to receive my first edition?
All subscriptions begin with the upcoming print issue, though you will receive the digital issues (and other digital content) included with your subscription immediately.
Can I buy a single issue of the print edition?
What if I have more questions or a specific problem with my order?
Will my subscription automatically renew?
Yes, your subscription will automatically renew every year without interruption for as long as you wish, so you won't miss any Disney magic! You will receive a confirmation of your renewed subscription when it automatically renews, and you may turn off auto-renew at any time. (See "How do I cancel my subscription?" below.)
Can I order a non-renewing subscription or a Gift Subscription?
Sure! You can order a non-renewing subscription (either for yourself or as a gift) by clicking here. We will send you an email reminder when your subscription is about to expire, and you'll also receive a notice with your last issue. That way you can renew and not miss any of the magic.
I purchased some digital back issues of Celebrations with my new subscription. Can I access them from my account?
Sure! Once you login, you'll be taken to your Celebrations Membership Home Page. Simply click on "Downloads" in the left-hand menu to see all of your purchased and free digital issues, as well as any other digital products you may have purchased.
Can I download the digital issues to my computer?
Absolutely! You can download the PDF issues to your computer, laptop, or mobile device so that you can read them wherever you go.
How do I cancel my subscription?
Simply log in to your account and select "Subscriptions" in the left-hand menu. There you will see a list of your active subscriptions. Click the "View" button of the subscription you'd like to cancel. This will bring up the details of your order, including options to update your address, change your payment plan, or cancel your subscription.
Please note that if you cancel your subscription, the links to your digital issues will be removed from your "Downloads" area. If you haven't downloaded those issues and would like those links again, just send us an email and we will forward you the proper links for your collection. (If you've previously downloaded your issues then no worries…your downloaded files will be safe and sound.)