Princess Tiana Gets Her Own Attraction- On Both Coasts!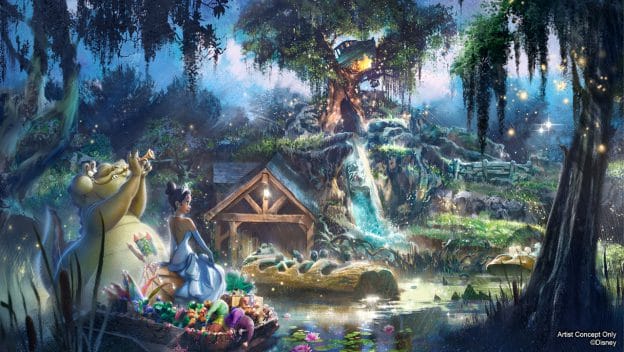 By now, we have all heard the wonderful news – Princess Tiana is getting her very own ride in the Magic Kingdom and in Disneyland Anaheim! Splash Mountain, which debuted in the Magic Kingdom on July 7th, 1992 and in Disneyland California on July 17th, 1989, will be replaced with a bayou adventure starring princess Tiana, Louis and friends and is meant to take place after her wedding to Prince Naveen. From the water theme to the log vehicles to the perfect combination of sunshiny and ominous tones, this ride track seems to be almost made for this exciting new attraction! 
While it's still in the embryo stages of development, like most Disney ideas, the concept art is breathtaking. Beautiful golds, greens, blues and purples paint the canvas amidst a New Orleans backdrop that gives our hearts all the flutters. In honor of this phenomenal Disney Princess, here are some things you may not have known about Tiana and The Princess and the Frog. 
Two Very Unique Princesses
This is perhaps one of my favorite facts about our bayou princess and a real tell regarding the detailed magic that is Disney. The actress who voices Tiana, Anika Noni Rose, made a lighthearted suggestion that Princess Tiana take on a few real life characteristics of the voice actress herself. Those included having dimples and making Tiana left handed! Admittedly, I may not have noticed that Tiana was a lefty, but upon watching the movie after this knowledge, you can't help but look for it (it's especially evident in the scene wherein Tiana is attempting to get her loan for Tiana's Place and is sprinkling powdered sugar on the beignets!). Guess which other powerful princess is left-handed? Everyone's favorite warrior, Fa Mulan!
Back to the Basics
This may come as a surprise, but The Princess and the Frog is actually the first animated Disney film that was hand drawn since 2004, which was Home on the Range. With the success of Pixar, specifically Toy Story,  and its gorgeous CGI, hand drawn films were starting to become a thing of the past. As much as we love that beautiful, almost life-like animation of Woody and Buzz, there is something so magical about breathing life into a hand drawn concept. Returning to the way Walt had originally started the Walt Disney Company all the way back in 1923 is a great homage to one of our favorite Uncle Walt phrases 'I hope that we never lose sight of one thing – that it was all started by a mouse.' Or in this case, a frog, but the sentiment is still there 😉
 The Oldest Disney Princess!
If you tune in regularly to the Celebrations Podcast (if you haven't yet, what are ya waiting for?), you may remember this tidbit of information on our Disney Princess episode. While still incredibly young, Princess Tiana is actually the oldest Disney princess in the official princess lineup at just 19 years old. The other princesses range from ages 13-18, Rapunzel being the second oldest at 18. She might be the oldest out of her fellow gal pals, but at 19 she is already a strong, ambitious restauranteur with even more dreams on the horizon – she can achieve anything she sets her mind to!
Do as I Say, Not as I Do…
There are many things we want our children to mimic after watching The Princess and the Frog- follow their dreams, maintain lifelong friendships, even wish upon a star! But puckering up to frogs is most definitely not one of them. To be fair, Tiana herself wasn't too thrilled about the idea of it initially. Nonetheless, in 2009 following the release of the film, roughly fifty kiddos (mostly little girls under the age of 10!) were admitted to their local hospital for smooching frogs in hopes to find their own prince charming… talk about a slimy disappointment! 
 A Long Time in the Making
Animation takes time, and hand drawn films tend to take even longer. The Princess and the Frog took a total of four years to create, start to finish. We often see our favorite animated movies and assume that it is this instant collaboration, but the truth is, sometimes the animators never even meet the voice actors. It's a lot of going back to the drawing board, working crazy hours and even some breaks in between to refuel those creative juices! Any artist (visual or otherwise) will tell you that the creative process is a rollercoaster and one that does not produce overnight. I think we can all agree that The Princess and the Frog was well worth the wait!
Disney is making so many changes regarding new park standards, some of which may even affect when we return to the parks. While changes to beloved attractions can take an emotional toll, change and progress is always at the forefront of Disney and something Walt himself admired in the magic he created. The Princess and the Frog is such an important film and giving Tiana a permanent place in the Magic Kingdom is just what the doctor ordered. From the beautiful music and southern ambiance to the zeal that always comes with a new and exciting Disney change, I absolutely cannot wait to take a log ride through the beautiful bayou! Welcome to Frontierland on both coasts, Princess Tiana!
​
Enjoy the magic of Disney all year 'round with Celebrations Digital Magazine!
1 year/$19.99!