Ten Things You May Not Know About Chip 'n' Dale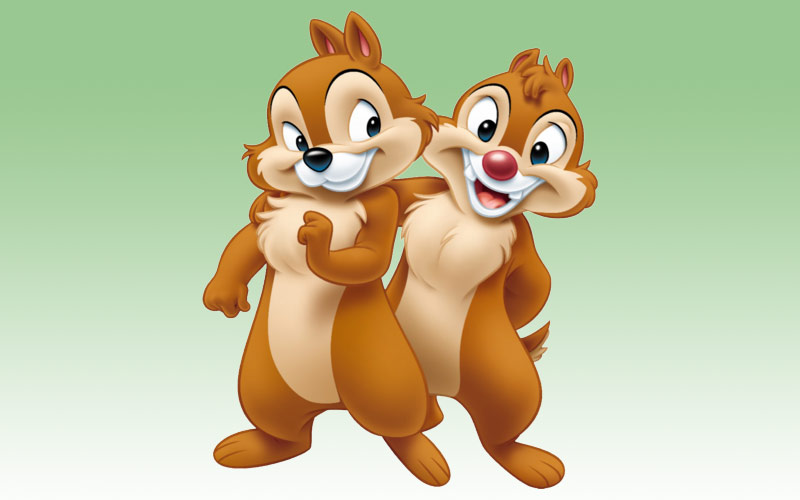 1. Chip 'n' Dale made their first appearance in the 1943 cartoon short, Private Pluto, though at the time they didn't have names yet.
2. It would be another four years before they got their names, when they starred in their own short, Chip an' Dale. Pluto evidently had had enough of the mischievous duo; Donald Duck was the new target of their mayhem. Originally, their name was spelled with an additional 'a' in the middle, but it wouldn't be long until it was changed to the familiar 'n'.
3. So how do you tell them apart? Chip has a small black nose (think chocolate chip), while Dale has a big red one. Additionally, Chip has one tooth while Dale has two widely spaced buck teeth. Curiously, it took a while for them to acquire their different looks; when they were first seen they were virtually indistinguishable.
4. Chip 'n' Dale appeared in over twenty cartoon shorts through the 1950s before taking an extended hiatus. They would reappear in 1989 as the stars of the TV cartoon series, Chip 'n' Dale Rescue Rangers, which ran for 65 episodes through 1990.
5. But it almost wasn't Chip 'n' Dale's Rescue Rangers. The original star of the show was to be a mouse named Kit Colby, styled after Indiana Jones.
6. The duo were much more talkative in their new series than they were in their cinematic shorts. Dale's voice in particular may be familiar to Haunted Mansion fans. Corey Burton, who performed the voice of Dale, also provided the voice for the Ghost Host in the HalloWishes fireworks show during Mickey's Not-So-Scary Halloween Party. He can also be heard delivering the classic line "Welcome, foolish mortals" during the opening of The Haunted Mansion film.
7. A favorite place to meet Chip 'n' Dale is at the Garden Grill restaurant in the Land pavilion in Epcot. You can enjoy down-home favorites like turkey, cornbread stuffing and oatmeal cluster rolls (but alas, no acorns).
8. Chipmunks are also known as striped squirrels, chippers, munks, or timber tigers (but don't tell Tigger about that last one!).
9. Chip's name seems to make sense (they're chipmunks, right?), but where did Dale come from? It turns out that they were both named as a punning reference to Thomas Chippendale, the famed furniture maker. (So Chip isn't named for the rodent after all!). The name was conceived by Bill "Tex" Henson, a Disney animator who went on to be a supervising animator for The Rocky and Bullwinkle Show.
10. Chip 'n' Dale didn't have much in the way of a job description in their early days (they were often described as "schemers"), but they grew more ambitious over time. In addition to their roles as detectives in Rescue Rangers, they also became mechanics of the Gummi Ship in the Kingdom Hearts video game.