7 Spring Snacks to Try at Walt Disney World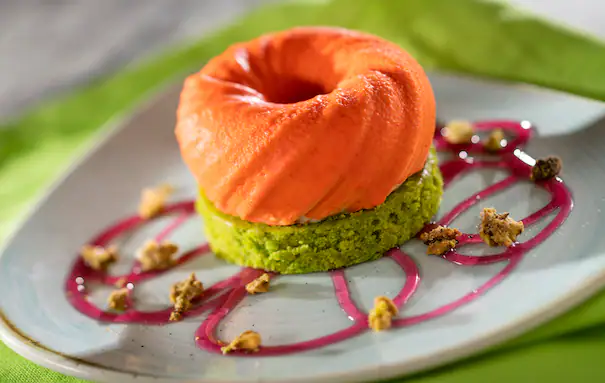 As tax season approaches, I've once again been informed by friends and family that churros, Mickey Premium Bars, and Dole Whips are not "legitimate business expenses." But at Celebrations, it's our job to make sure that you have all the information you need when it comes to Walt Disney World. If that means trying every snack and meal on property as frequently as possible, then so be it. It's a responsibility we can't shirk.
So, as I wait for the auditor to make their determination about the legitimacy of our "citrus swirl write-off," here's a list of some of the best Spring snacks to try when visiting the parks.
Pollinator Flat Bread
Nothing quite says spring like honey, which makes the Honey Bee-Stro booth at Epcot's Flower and Garden Festival the perfect place to start.  Hosted by the National Honey Board and located in Showcase Plaza, every item on the menu is loaded with the gooey golden stuff that would earn it the Winnie-the-Pooh badge of approval.
If we had to pick one item that most TASTES like spring, we'd have to go with the Pollinator Flat Bread. It's got honey-whipped mascarpone, honey caramelized onions, blueberry gastrique, prosciutto, honey-whipped goat cheese, arugula, honey vinaigrette, and bee pollen. Even better? It's only $6.25.
Basically, the only thing that could make this more seasonally appropriate would be if Spike the Bee prepared and served you the food himself. 
Orange Blossom Saffron Cake
Staying in Epcot, you should also take a trip to Tangierine Cafe: Flavors of the Medina in the Morocco Pavilion. That's where you'll find the orange blossom saffron cake, which you can buy for $5. It's been making a lot of lists for "favorite dessert" at this year's festival, and has some folks even describing it as the "best of the 'fest." 
The top of the desert looks a bit like an orange flower, and that exterior is hiding a creamy panna cotta on the inside. It rests on top of a soft pistachio cake, all of which is complimented by a raspberry drizzle and candied almonds. The citrus flavor is light, and the pistachio gives the whole thing a nutty taste, but the tartness of the raspberry sauce might just steal the whole show. It's a brand new item for this year's festival, and definitely, one not to miss.
Carrot Cake Whoopie Pie
From Epcot, let's venture over to Hollywood Studios to sink our teeth into a straight-up icon of Disney snacks. That's right. We're talking about the carrot cake whoopie pie that can be purchased at The Trolley Car Cafe.
First of all, carrots are a great spring root vegetable, so it's an ideal ingredient for a spring food. Second of all, this is basically heaven in food form. It's two enormous carrot cake cookies sandwiching some cream cheese frosting. It's big enough to share, but after one bite you'll probably want to reconsider your relationship with anyone who asks for a bite. Oh, and it's $4.99. That seems a small price to pay for a taste of perfection.
Easter Bunny Caramel Apple
Between their association with Easter and the fact that they undergo a population explosion around this time of year, bunnies are pretty much the definitive spring animal. With that in mind, you'll probably also want to sink your teeth into the Easter Bunny Caramel Apple at Zuri's Sweets Shop. It's located in the Africa section of Disney's Animal Kingdom. 
At $11.99, this is definitely a pricier snack, but it makes up for it with a heavy dose of deliciousness. The item consists of a Granny Smith caramel apple made with Werther's Original caramel, confectioners coating, marshmallow, milk chocolate candies, sugars, and a confectioners bow. The only warning? It's adorable, so you may feel a bit guilty taking that first bite. 
Confetti Cake Lamb Pop
Okay. If you had a hard time eating the adorable bunny, be forewarned that this one is going to be a bit of a challenge too. The confetti cake lamb pop is a cake pop designed to look like a cute little lamb. The lamb's "wool" is made up of tiny little dehydrated marshmallows. Break the little lamb open and the interior is a nice, moist confetti cake. 
You'll have to hop out of the parks to get this one, and venture on over to the lobby of the Grand Floridian Hotel. That's where you'll find Grand Cottage, a pop-up shop that will be around through the spring. The cake pop is $9.50. The mental cost associated with eating such a cute creation is a little harder to estimate. 
Snow White Cone
While it isn't a seasonal treat, the Snow White cone at Storybook Treats in the Magic Kingdom just fits perfectly with the spirit of the season. The snack is lemon DOLE Whip® Lemon in a blue Cone, with a sugar bow, and topped by a chocolate blue bird. The pastel colors and the happy little songbird just feel like spring to us.
Storybook Treats is located in Fantasyland, and the cone is currently listed at $6.79.
Cheeseburger Spring Rolls 
Well, OBVIOUSLY this is a spring treat. After all, it literally has the word SPRING right in its name. Just go with it, okay? This list has been overwhelmingly sweet and it needed at least a little bit of savory on it. Besides, the cheeseburger spring rolls are delicious year-round.
If you haven't tried them, just imagine that you took a cheeseburger…and stuck it in a spring roll. It's all pretty much right there in the name. 
To find these delicacies, you'll need to stop by the Egg Roll Cart in the Magic Kingdom. It's located near the entrance to Adventureland. You get two rolls for $9.50, but they're easily worth 10 times that amount. They're priceless really. I mean, if you ignore the fact that they're priced at $9.50 per serving. 
Enjoy the magic of Disney all year 'round with Celebrations Magazine!
1 year/$49.95!