A Tour of the Haunted Mansion Graveyard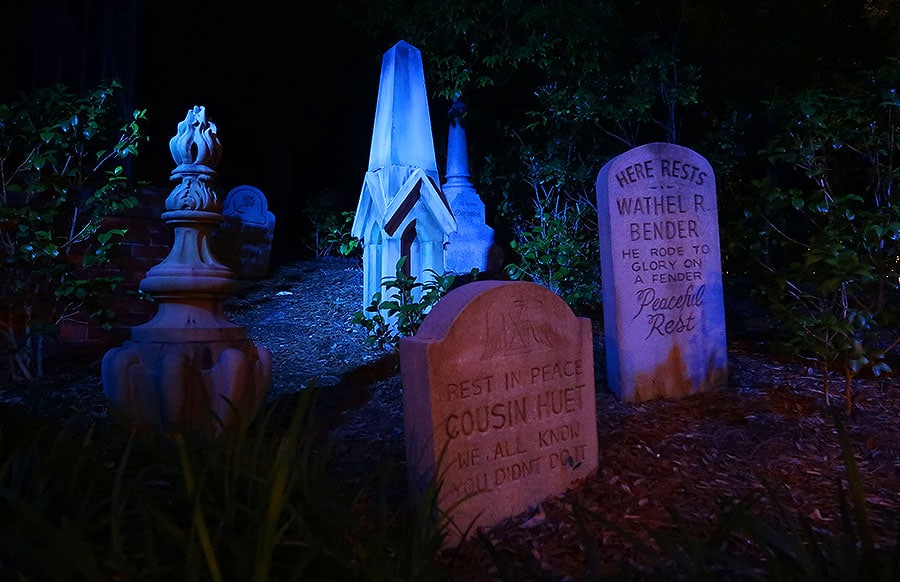 "When hinges creak in doorless chambers, and strange and frightening sounds echo through the halls … Whenever candlelights flicker where the air is deathly still, that is the time when ghosts are present, practicing their terror with ghoulish delight. Welcome, foolish mortals, to the Haunted Mansion."
There's just something about those words that make my heart happy. They feel like home. As I've mentioned in the past, I would live in the Haunted Mansion if given the opportunity. Not as a permanent resident mind you. I don't have my death certificate yet. I'd be more like a caretaker.
As the official Haunted Mansion caretaker, I'd be sure to spend a good amount of time caring for the graves located on the property. If you've visited the attraction, you've no doubt wandered amongst the crypts and graveyard that lead up to the mansion's entrance. Each tells a story of its own.
There are several prominent figures buried at Gracey Mansion. One of my personal favorites is that of Captain Culpepper Clyne. A huge stone sculpture stands in tribute to the good captain. The top resembles a bathtub, and you can see the captain's leg sticking out of the tub. An inscription reads:
"Here floats Captain Culpepper Clyne
Allergic to dirt so he's pickled in brine
He braved the sea and all her wrath
But drowned on land while taking a bath"
The crypt of the great poetess Prudence Pock can also be found. It is decorated with books, and it seems that the spirits are always ready for a good ready at the haunted mansion. The books pop out of the walls at random. At the front of the crypt, there is an open book as well as a plaque commemorating Pock's death. It says:
"Here lies poetess Prudence Pock. She died, 'tis said, from writer's block."
As something of a writer myself, I must say that this particular epitaph strikes a bit close to home.
Should you find yourself with a bit of time to waste while waiting in the queue. You can help the spirit of the poetess compose new verses. The Spectrecom (patented by R.H. Goff) allows you to offer rhyme to the poetess to include in her new verses. Now that I think of it…where have I heard the name Goff before? It seems to me that there was a Disney artist named Ralph Harper Goff who helped design the Nautilus from 20,000 Leagues Under the Sea, and contributed to the planning for Main Street U.S.A., the Jungle Cruise, and worked as a member of Disney's famous Firehouse Five Plus Two dixieland jazz band. A pure coincidence I'm sure.
Come to think of it, there are a few odd coincidences like that within the graveyard. Take for instance the tombstone of Francis Xavier (no time off for good behavior). It sounds a bit like Francis Xavier Atencio doesn't it? He was the lyricist for the song "Grim Grinning Ghosts" heard within the mansion.
Then, of course, there's Master Gracey, who gave his name to the mansion. His tombstone reads, "Master Gracey Laid to Rest No Mourning Please at His Request." Is there, perhaps, a connection to legendary Imagineer Yale Gracey?
The closer you look, the more it seems that every name in the graveyard is connected to a figure in Disney history. The fact of the matter is, the graveyard is a delightfully morbid tour of Disney history. There's good old Fred (a great big rock fell on his head), who calls to mind Fred Joerger. During his time with Disney, Joerger was known for his ability to create beautiful rock formations for attractions. Master Sewell (the victim of a dirty duel) alludes to Disney model artist Bob Sewell. Brother Claude (planted here beneath this sod), is Disney artist Claude Coates. Then there's a tombstone for a man named Martin (the lights went out on this old Spartan). Bill "Bud" Martin was the vice president of Disney and involved in the development of both Disneyland and the Magic Kingdom. Marc Davis, an animator and Imagineer, receives his tribute with a headstone that reads, "In memory of our patriarch – Dear Departed Grandpa Marc."
It doesn't stop there. There are a total of 13 tombstones in the graveyard. Cliff Huett, an architect who worked on the Haunted Mansion, has a tombstone reading, "Rest in Peace Cousin Huett – We All Know You Didn't Do It." Wathel Rogers, who helped with the creation of Disney's earliest Audio Animatronics, has a tombstone too. His reads, "Here lies Wathel R. Bender – He rode to glory on a fender." Chuck Myall, who helped create the master plan for Walt Disney World, gets his due. A small stone in the graveyard is carved with the words, "In Memoriam Uncle Myall – Here You'll Lie for Quite Awhile."
Dave Burkhardt leant his hand to a number of Disney attractions, including the Haunted Mansion. His headstone is inscribed, "Dear Departed Brother Dave – He Chased a Bear Into a Cave." Gordon Williams created the majority of the sound effects within the Haunted Mansion, and his stone reads, "R.I.P. Good Friend Gordon – Now You've Crossed The River Jordan."
The last, and most impressive, headstone is that for Madame Leota. We detailed the history of Madame Leota and Disney legend Leota Toombs a few weeks ago, so we won't revisit that here. Suffice it to say, she's got her eye on you while you visit the graveyard.
All of these details only scratch the surface of the puns, allusions, and secrets hidden throughout the grounds of the Haunted Mansion. Next week we'll pay a visit to the Pet Cemetery, and examine a few other spooky details.
Until then: Happy Haunting.
Enjoy the magic of Disney all year 'round with Celebrations Digital Magazine!
1 year/$19.99!